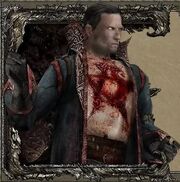 There are those men who would willingly give their souls and bodies to the Fallen. They had even formed a cult of worship, expecting to received rich gifts and knowledge in return. Well, Bethrezen does indeed deliver the goods to them - but as long as they are useful to him.
Character Info in Disciples III
Base Level
1
Attack Type
Ranged
Class
Mage
Attack Source
Fire
Movement Range
3
Target
All
Characteristics
Endurance
5
Attack Power
37
Strength
5
Health
150
Intellect
15
Cover
0
Agility
6
Initiative
20
Dexterity
6
Armor
2
Magic Defense
Fire
10%
Mind
0%
Earth
45%
Death
0%
Water
5%
Air
25%
Special Abilities
Eagle Eye
Every level a Cultist gains ?? Endurance (?? hp) and ?? Intellect.