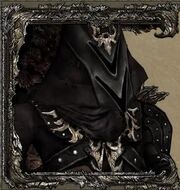 Few have any idea why the Book of Darkness is called so and what dark secrets its pages posses. Those who have such an idea, won't say much about it anyway; for when a Sorcerer becomes a Doppelganger, he won't give his secrets away.
Character Info in Disciples III
Base Level
13
Attack Type
Melee
Class
Fighter
Attack Source
Mind
Movement Range
5
Target
Single
Characteristics
Endurance
16
Attack Power
105
Strength
10
Health
480
Intellect
35
Cover
0
Agility
40
Initiative
50
Dexterity
32
Armor
5
Magic Defense
Fire
25%
Mind
0%
Earth
20%
Death
0%
Water
5%
Air
25%
Special Abilities
Polymorph, Shadow Stalker
Every level a Doppelganger gains ?? Endurance (?? hp) and ?? Intellect.