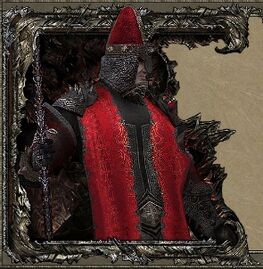 Description:
Long prayers, fasting and self-torture help to cast off the chains of the frail flesh, elevating the mind of the Inquisitor, thus making him truly grand.
Attack Type -Melee
Attack Source -Weapon
Target -Single
Movement Range-5 hexes
Lv24 Attributes
Edit
Health -1040
Armor -22
Critical hit -0
Attack power -120
Initiative -40
Cover Points -1
L24 Stats
Edit
Endurance -52
Strenght -60
Intellect -30
Agility -30
Dexterity -33
Lv24 Magic Resistances
Edit
Fire -75%
Water -10%
Air -25%
Earth -10%
Mind -95%
Death -45%
Special Abilities
Edit
Anathema -Decreases enemy's endurance.
Double Strike -Unit hits twice with each attack.