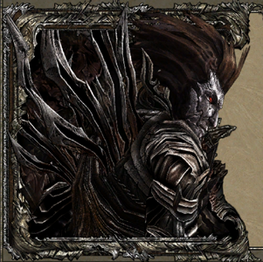 A faithful servant of Bethrezen, Haarhus is ready to execute any of his masters orders. His soul is closed off; all feelings are reflected in hatred for everything around him.
Starting Stats
Edit
Includes the starting magic items.
Character Info in Disciples III
Base Level
1
Attack Type
Melee
Class
Fighter
Attack Source
Weapon
Movement Range
3
Target
Single
Characteristics
Endurance
20
Attack Power
68
Strength
17
Health
700
Intellect
10
Cover
1
Agility
11
Initiative
40
Dexterity
13
Armor
16
Magic Defense
Fire
20%
Mind
50%
Earth
10%
Death
5%
Water
0%
Air
5%
Special Abilities
none
Starting Magic Items
Edit
Tier 2 Magic Items
Edit
Leveling
Edit
With each point of Endurance, Haarhus gains 35 hit points.
With each point of Strength, Haarhus gains 4 Attack Power.
Upon leveling and expending skill points, Haarhus can eventually gain the following combat abilities:
Wall
Push
Paralyze
Death Blow
Remove Wall
Slow