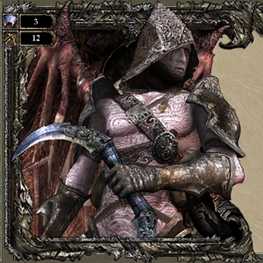 The silent Thief moves swiftly through enemy lines, devouring lives and souls. Most of all, he longs for others' secrets, and he always forces his victims to share their innermost feelings and secrets before killing them.
Starting Stats
Edit
Includes the starting magic items.
Character Info in Disciples III
Base Level
1
Attack Type
Melee
Class
Rogue
Attack Source
Weapon
Movement Range
4
Target
Single
Characteristics
Endurance
13
Attack Power
58
Strength
12
Health
325
Intellect
8
Cover
0
Agility
18
Initiative
40
Dexterity
17
Armor
12
Magic Defense
Fire
25%
Mind
20%
Earth
0%
Death
0%
Water
0%
Air
5%
Special Abilities
Double Strike
Starting Magic Items
Edit
Acquired Magic Items
Edit
Leveling
Edit
With each point of Endurance, a legion Thief gains 25 hit points.
With each point of Dexterity, a legion Thief gains 2 Attack Power.
Upon leveling and expending skill points, a legion Thief can eventually gain the following combat abilities:
Duel
Extra Attack
Dispel Debuff
Steal
Envenom
Devouring
Disciple II
Edit
The Thief is valued for his skill in subterfuge.
Initial Stats
Edit
Unit stats in Disciples II
Class
Damage
HP
100
Armor
0
Regen
5
Weapon
Daggers
Damage
30
Chance to hit
{{{chance}}}
Initiative
60
Source
Weapon
Reach
Adjacent
Immunity
None
Ward(s)
None
Abilities
Duel
Spying
Incite Riots
Poison Enemy
Units in The Legions of the Damned faction in Disciples II